Do you want to quickly open currently opened website in a new tab? You can easily perform such tab duplication in your favorite web browser. In few simple clicks you can open new (duplicate) instance of any currently opened tab. Following is quick and easy procedure to duplicate tab in either Google Chrome, Mozila Firefox or Internet Explorer web browser.
Duplicate tab in Internet Explorer
1. Open and launch Internet Explorer browser.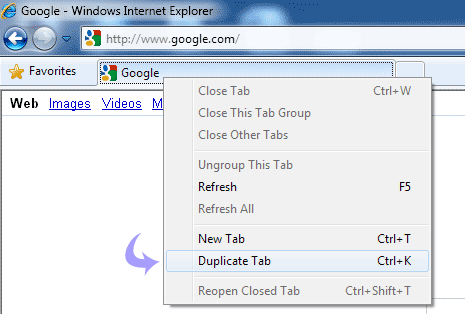 2. Right click on any opened tab and click "Duplicate Tab" button. Alternatively press Ctrl + K keys to duplicate tab with shortcut key.
Duplicate tab in Google Chrome
1. Open Google Chrome browser.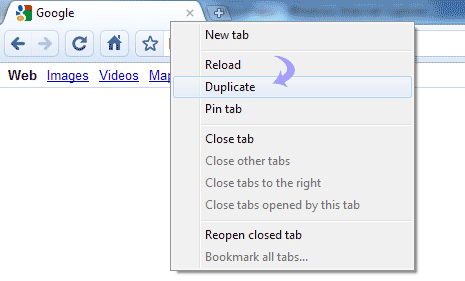 2. Right click on opened tab and then click "Duplicate" option. A new tab will open with same website URL in the same window.
Duplicate tab in Firefox
1. Open Mozilla Firefox browser.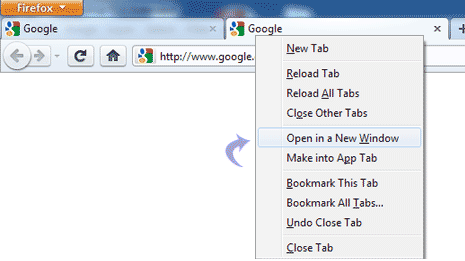 2. Right click on tab and click "Open in New Window" option. This will duplicate existing tab but will only open in new window.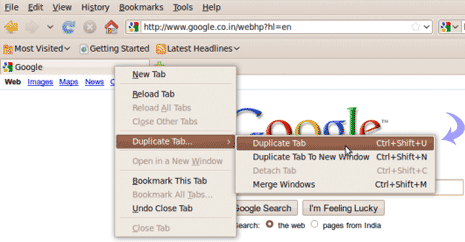 3. To duplicate tab and make it open in same window, you can install 'Duplicate this tab' Firefox addon. After install, to duplicate tab in same window press Ctrl + Shift + U keys.