PDF format always come handy is viewing and sharing content. Users with Firefox as default browser may want to save webpages in the form of PDF file. There are number of free Firefox plugins that adds functionality of HTML webpage conversion into PDF document format. Once you install either of PDF converter plugin in Firefox, you can convert and save any webage into PDF document file in few clicks.
For Google Chrome users: Chrome Extensions for webpage to PDF conversion
Save as PDF firefox plugin from PDF Crowd
1.Save as PDF plugin for Firefox browser works flawlessly for quick webpage to PDF conversion. It is a light weight plugin for saving webpages in PDF format. Once you install this plugin, it places "save as PDF" button at top left part of the toolbar in Firefox browser.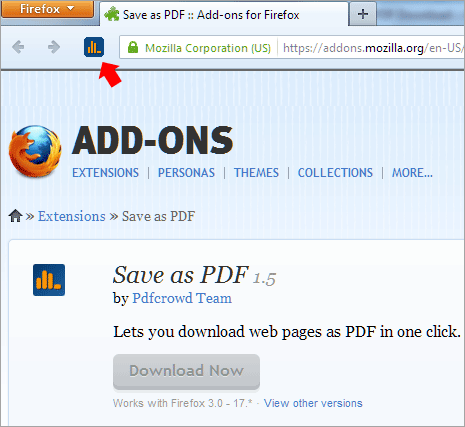 2. Open any webpage that you want to save in PDF format and click on save as PDF button on the toolbar. After few seconds of processing you should see pop-window from where you can preview saved PDF file containing webpage contents. This plugin uses Pdfcrowd html to pdf service in the back-end for conversion.
There is nothing to configure as it saves webpage with original look and layout. For customized saving with options like: page size, page orientation, margins, password protection and initial view – you need to sign up for pro account.
PDF Download plugin emails converted PDF files
1. If you are not in hurry and want PDF files containing webpage contents delivered in your email inbox, then install PDF Download plugin for Firefox browser. This plugin uses online HTML to PDF conversion service at pdfdownload.org website.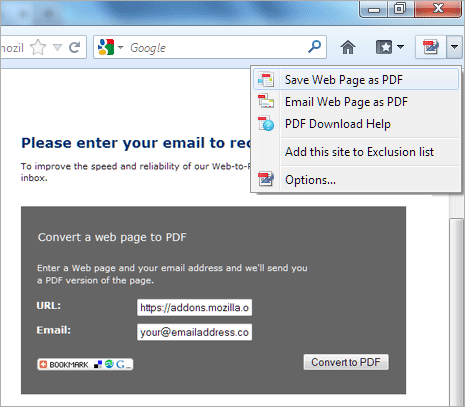 2. To use this plugin, open webpage and then click on PDF Download button at top right part of Firefox browser. Then you should see screen for entering your email address. Click Convert to PDF button and the converted PDF file should be sent to specified email ID.
While this plugin works, many users may NOT want to give email ID and wait for email to arrive just for conversion of webpage into PDF format. Using first option above makes more sense when you need instant download of PDF file containing webpage contents.