Seadragon from Microsoft LiveLabs is a cool web service to neatly display high resolution images. It creates a zoomable box or widget in which you can zoom in or out to see detailed look of any part of a high resolution image. You can even switch to full screen mode and enjoy viewing of high resolution image in a cool interface. To get started: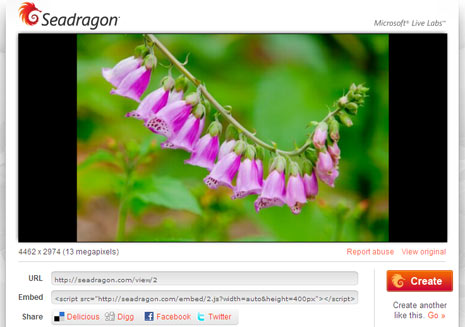 1. Open Seadragon website.
2. Enter direct image URL and click Create button.
3. Share the zoomable widget box either using direct viewing URL or embed the widget on your blog or website using available embed code.
It is powered by Microsoft Silverlight and practically converts a static high resolution image in a dynamix zoomable canvas for detailed exploration in a widget. It is very easy to use – does not involve too many steps or rocket science to get going. Here is a preview of embeded image using Seadragon: