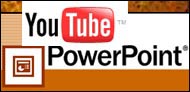 With everyone playing around with videos these days, how about adding a Youtube video to your PowerPoint presentation? One can easily insert and play Youtube Video within PowerPoint presentation real time with the help of YouTube Video Wizard.
Procedure of using this is real easy. To insert YouTube video into a PowerPoint slide you need to provide the YouTube video URL that appears in the browser address bar, the rest is taken care of by the YTV Wizard. While running PowerPoint presentation LIVE internet connection is required for Youtube video to run. Here are basic features:
It is available for Powerpoint 2003 and 2007.
Only Youtube Videos can be inserted using this.
Live internet connection is required to run the video.
You need to install it by adding it as "add-in" in PowerPoint.
Youtube Video Wizard: Info & Download – Play/rewind Add-on 
Besides you can also install another add on to play/rewind the YouTube video automatically. Very handy utility to play around with videos in PowerPoint presentation. Also this will give you more space to be creative and add interactivity in your presentation as you can embed any Youtube Video, just need Youtube Video URL and this utility. [via– CompuWorld ]