Youtube has added 'Face Blurring' feature that allows you to blur and hide faces of people appearing in your uploaded videos with a click of a button. This feature can be very handy in specific situations where you may not want to show faces in the video to reveal the actual identity of people. It is very easy to use feature allowing quick blurring of detected (people) faces in the uploaded video.
Using 'Face Blurring' on your uploaded Youtube videos
1. Once you login into your Youtube account, click on your username at top right and then click on Video Manager option. Now you should see list of all uploaded videos in your Youtube account.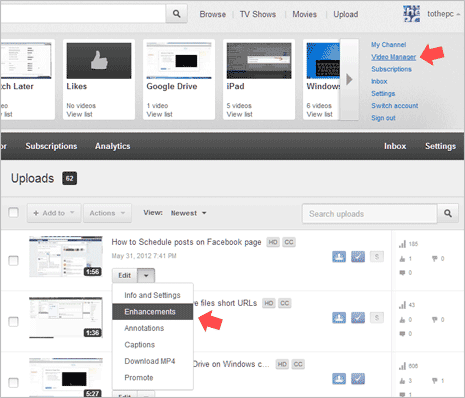 2. Next to specific video, click on down arrow next to edit button and then click Enhancements option. This will open specific video in online Youtube video editor.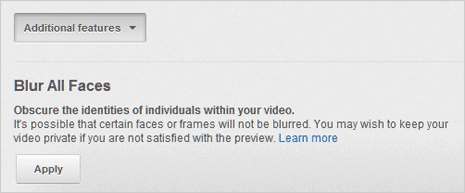 3. Scroll to bottom and click on Additional Features button. Then click Apply button under Blue all faces option "Obscure the identities of individuals within your video".
Face Blurring in Youtube videos: FAQs
1. This is a new technology feature, it is possible few faces or frames may not be blurred. After applying the Blur filter, make sure you preview the video. If faces are not blurred as per your expectations, do not make the video live on Youtube website.
2.  Major limitation of this feature is inability to blur specific faces. This feature will automatically blur all detected faces in the uploaded video. At present there is not way to omit specific faces in video from the blurring filter.
3. When applying Blur filter you will get option to delete original video (showing actual faces). If you do not delete to original videos now, you may choose to delete it at any time later from the video manager page.
Video: Blur & Hide faces in Youtube videos