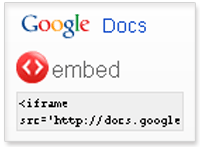 Things are getting easier for Google Docs users. Now you can share and embed presentations made using Google Docs on any webpage. Just like Youtube Videos, copy the embed code and use it on webpage to show the presentation.
After you create the presentation, click on publish and then grab the embed code located under Mini Presentation Module. You can paste this code to share presentation on any blog or website.
The presentation window looks very similar to embedded Youtube Video. Click on menu button on bottom-right gives you the embed code for further sharing of presentation. Here is live example of embedded Google presentation.
You can easily edit the presentation at its source and changes will appear by itself. There is no need to change the presentation embed code on the webpage.
Other new features added to Google Presentation include sub-folders and ability to rename documents and folders from the Docs home toolbar. Embed feature will surely make Google Presentation popular as a result of ease of sharing presentation, what say? [via – GoogleDocs]