Do you want to extract and save audio track of FLV flash video file? FLV2mp3 is a free utility which makes this process real easy, involving few simple clicks. It can extract sound / mp3 audio part of FLV video file with high efficiency. Whole process is very quick and produces good quality mp3 audio file.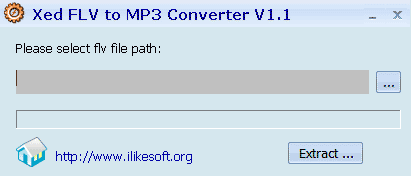 Extract Mp3 from FLV with FLV2mp3
1. Download FLV2mp3 utility.
2. Double click to launch (it is portable, does not require install).
3. Select FLV flash file stored on the computer.
4. Click Extract button to get mp3 audio of selected FLV file.
Besides being quick, FLV2mp3 is fully portable utility – just download, double click to launch and use sound extractor utility. Alternatively, you can try MiniDvdSoft FLV to MP3 converter.