Are you one of those, who like to download tons of stuff be it music, videos, applications etc? If yes, then you must be knowing the importance of sites like Megaupload & Rapidshare. Seaching for favorite file could be troublesome at times.
Now, there is an alternative to search for media files stores on theses sites, using Filecrop Search engine. Just type in the decription of file you want to search and you will get list of related files stored on these hosting sites.
Here is what I got, when searched for Irfan View, it is a image editing software.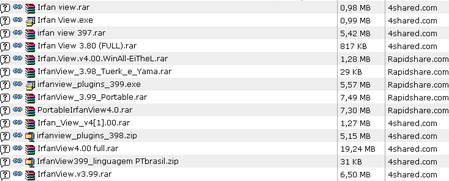 Filecrop, produced over 60 results from 3 different hosting services. Besides Megaupload & Rapidshare, it also search results from 4shared and badongo.
As per websites, they will soon add search results from sites like: rapidshare.de, 4filehosting.com, depositfiles.com, megashares.com, multiply.com, filefront.com, sendspace.com, turboupload.com, zshare.net, rapidupload.com, easy-share.com, yousendit.com and many more.
FileCrop: Website – Add FileCrop search to your site
One nice alternative to search for shared music, movies, e-books, games, software and others. What say?