Do you find it boring and time consuming to click start menu to able to shutdown, restart or hibernate computer? You can easily avoid start menu and perform similar routine using quick shortcut icons on Windows desktop. For this you need to create shortcut icons for shutdown, restart and hibernate. No need for manual trouble, you can do it automatically using PowerLink utility.
Auto Shutdown, Restart, Hibernate icons on desktop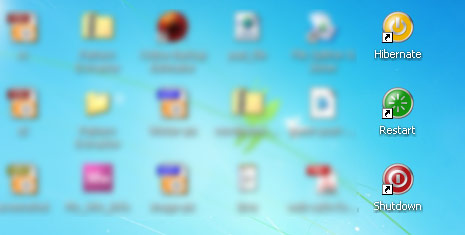 Download Powerlink utility and double click to install it. It will generate three shortcut icons on your Windows desktop, each for computer shutdown, restart and hibernate. You can quickly perform either action by double clicking on respective shortcut icon on the desktop. From now on, no need to navigate to start menu for PC shutdown, restart or hibernation.
Make Shutdown, Restart desktop icons manually
If you do not like to install stuff for such things on Windows, you can always do this manually. Checkout different types of shutdown and restart icons you can create for your Windows computer.