Do you want to shut down or turn OFF computer at specific time? No need to mess around, just download and use simple free utility "Auto Shutdown". It allows you to configure automatic computer shutdown at specified time. It can force shutdown your computer or give audio reminder before initiating auto shutdown procedure.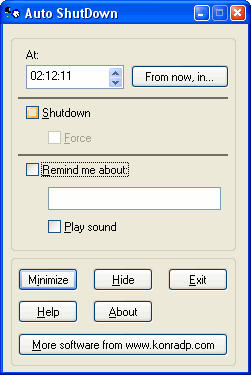 Automatic PC turn OFF with auto shutdown
1. Set time for automatic computer shutdown.
2. Check shutdown option to allow computer turn OFF after logging out.
3. Use the force option to turn OFF PC closing all current applications. Use of force feature may result in lose data and unsaved documents due to force closing of programs.
Also See – Shutdown & Reboot computer quickly from Taskbar
Ideally, you can use normal shutdown option with audio reminder for the shutdown time. Download Auto Shutdown free utility to turn OFF computer at any specified time automatically with ease.