Pressing Num, caps or scroll lock keys on keyboard too boring for you? Well, using small portable utility "NumLock" you can change the ON / OFF state of Num, Caps and Scroll lock with simple mouse clicks. Besides the ON / OFF status, you can make the utility to load Windows start and keep it on the system tray.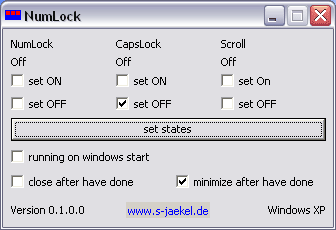 Use Num, Caps & Scroll Lock
1. Download NumLock program.
2. Double click on downloaded file to launch the program.
3. Click to set ON / OFF state for Num, Caps & Scroll lock.
4. Click "Set States" button and its all done.
It is a small program of 200Kb and does not require installation. You can carry it in USB drive to change Num, Scroll, Tabs lock status of any computer with need to press respective lock keys on the keyboard. Interested?