Do you want play around with application windows and make them transparent? TranspApps is a cool free application that allows you to make taskbar or any opened application window transparent in few simple clicks. After install, TranspApps window will show list of opened application. To get going perform following steps: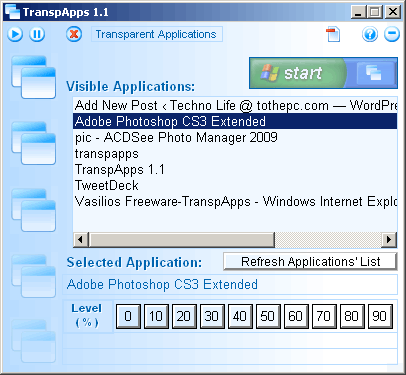 1. Click to select application shown in the list.
2. Then click on any button for different transparency level.
3. Selected application window will be set to transparent look.
Besides application windows, you can also make taskbar transparent. Click on taskbar icon (with start button) in TranspApps application window and then click to render required transparency level. Download TranspApps [Win 2000, XP, Vista – 1.33MB] to quickly render transparency effect to any opened window or taskbar in few simple clicks. Ready to play?