Want to help Google improve on Google Image Search and have fun at the same time? Google Image Labeler is here for little fun for you and loads of new image labels for Google database.
This whole activity is to improve the quality of Google's image search results, while you have fun playing a 'sort of game' with other online users. No need to login or sign up – you can start playing the game as guest.
After you hit the 'start labelling' button, you will be given an online partner. Now you and your partner will see same images. You need to provide as many labels for the displayed images. You will receive points when your label matches your partner's label.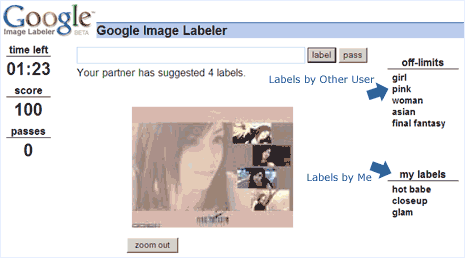 If cannot think of any label, you can hit 'pass' button to view next image. More descriptive label will earn you more points like: sky (50 points), bird (60 points), soaring (120 points), or frigate bird (150 points).
Click here to play this 2 minutes image – label fun game. Your play will eventually help Google improve on Image Search quality, wanna help?