On Twitter, many other Twitter users follow you to view, share and interact with tweets you post on regular basis. Ever wanted to discover and find your most valuable follower on Twitter. It implies, "One Twitter follower that deserve recognition as most popular, valuable and best follower". Ideally, this can be very subjective but you can add little objectivity using 'Who's your MVF?" app.
Use 'Most Valuable Follower' Twitter app
MVF (Most Valuable Follower) app allows you you find that deserving Twitter follower with a click of a button. "MVF is an award given in the twitterverse to your most popular twitter follower".
1. To use this application, open MVF app website. Then click 'Sign in with Twitter' button at the bottom. After successful login, authorize this application to access your basic Twitter profile information.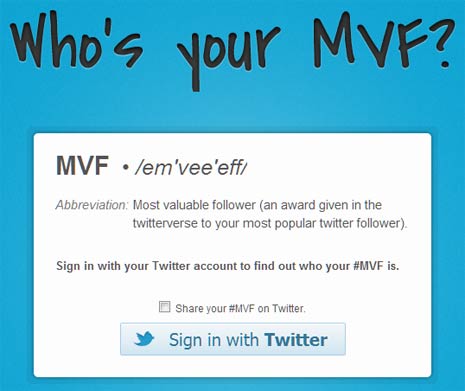 2. It will check all your followers in order to find best one. Once processing is complete, you should see mention of your best and most valuable Twitter follower. Besides the top honor, you can also see top 5 valuable twitter followers – just click Tweet button to post tweet about the app to discover more valuable Twitter followers.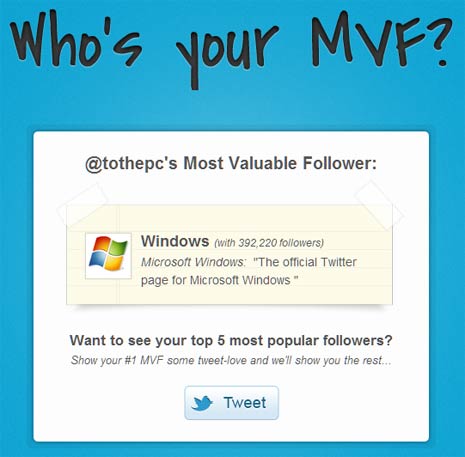 How does this works? Though there is no mention of methodology used – ideally, it takes into account the value of each follower (like number of users following your follower including tweets, retweets, mentions etc). As evident from results above, 'Windows' Twitter follower is most valuable considering number of followers it has and probable large number of mentions and re-tweets.