Do you want to replace specific word(s) in group of text files? Manual search and replace can take hours to complete this task. Cut the effort and hours using Text Crawler application – it enables you to instantly find and replace words and phrases across multiple files and folders. You can create sophisticated searches, perform batch operations and extract text from files on the fly.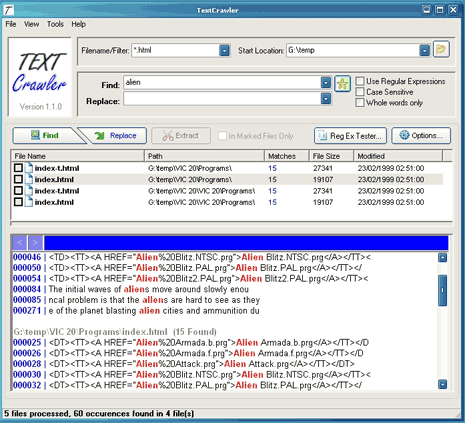 Related – Convert any HTML File or Clipboard text into PHP file
– Allows fast searching even on large files.
– Flexible and easy to use search parameters.
– Has text extractor to rip text into a new file.
– It highlights search results for easy identification.
– Supports batch find and replace operations.
Download Text Crawler, it is a free application and has easy to use interface. It supports number of basic to complex text search and replace functions. No need wasting time by manual search and replace – get automated with this cool application!