Do you want to create Photo Collage and export it in Adobe Photoshop as PSD format file? Users familiar with Adobe Photoshop will love this method of creating highly customized photo collages. This saves time, as actually photo collage making is done in special photo collage maker software that has PSD output feature. So, once PSD output is ready – open it in Adobe Photoshop for further play and final touches to the picture collage.
Photo Collage software with PSD output (Photoshop)
1. CollageIt software – It allows you to generate beautiful custom photo collages. CollageIt photo collage making software is available for Windows 7, Vista, XP and Mac users. Users can download free evaluation software on their system and quickly start making photo collages.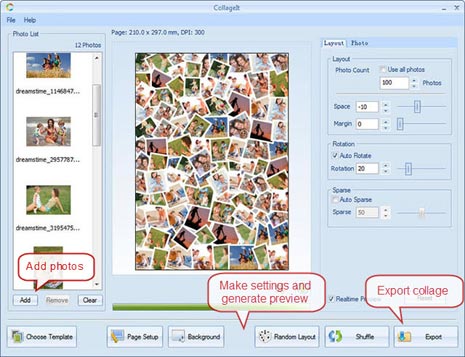 Both PC and Mac version of software has PSD export functionality. Once you are done with collage making, save it in PSD format and then open it in Adobe Photoshop for further editing.
2. Shape Collage – This dedicated photo collage maker has lot of feature for making cool picture collages. It has number of shape templates for custom picture collage creations. It also supports PSD output format that allows you to open your final collage in Adobe Photoshop program for more custom editing.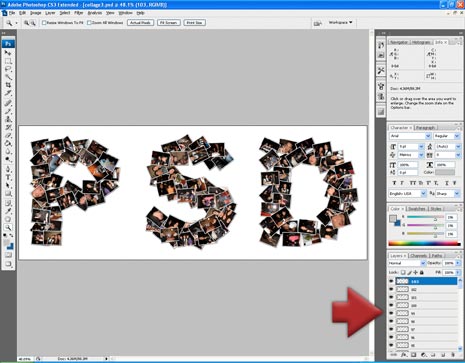 Users can also import final collage into Adobe After Effects program to make video from the photo collage on the fly. So once you make photo collage in this software, there are number of possibilities for further customization in Adobe Photoshop or After Effects programs.
3. CollageIt Free for iOS – Apple iPhone and iPad users can download CollageIt application on their devices for quick collage making process. Using touch interface, users can generate creative photo collages using existing collage template styles. Once collage is finished, user can export it in number of output formats like: JPEG, PDF, PNG and even Photoshop's PSD file format.
If are looking for simple and quick photo collage making methods, then checkout free online photo collage making tools. They allow you to create high quality collages online within web browser without need to download any software program.