Halloween is around the corner and you can easily get into Halloween spirit on the computer. Add scary Halloween effects to images of your friends, relatives online in few simple clicks. Make your photos look crazy this Halloween using Google's online image editor 'Picnik' Halloween edition.
Use Picnik Halloween edition effects
1. Open Picnik Halloween editor in your web browser.
2. After loading, click to upload any image from your computer.
3. Then browser various Halloween effects on the left sidebar. There are number of basic and free effects options to create Halloween style photos. Pro Picnik members have access to even more cool Halloween effects.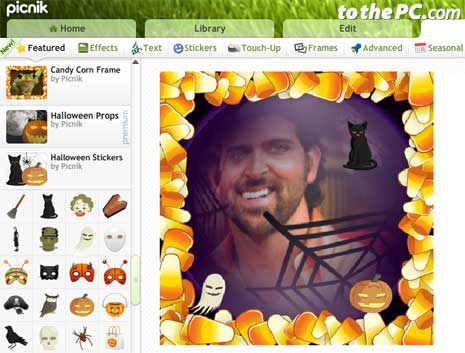 You can chose among various vampire effects like eyes, draculan dermis, vampirascope, fangs, blood stains. Reanimated effects include ghoul eyes, zombify, wounds and blood splatters. You can also apply haunted effects like ghostify, lightning, spider web, crystal ball and graves.
There are also effects to add various decorative elements to images like adding beard, paint, mask, eyeballs, props, stickers and candy photos. You can add more Halloween flavor on PC using  Yahoo Messenger Halloween audibles or using all together Halloween special browser.