Opera is one cool and best looking web browser. Now you can get into Halloween spirit (celebrated on October 31) using Halloween special Edition Opera browser. Basic Halloween elements like: Scary, bloody, bats, pumpkins form the look of this special edition browser. New Opera users can simple download this Halloween special Edition browser (for Mac & Windows) and start using it.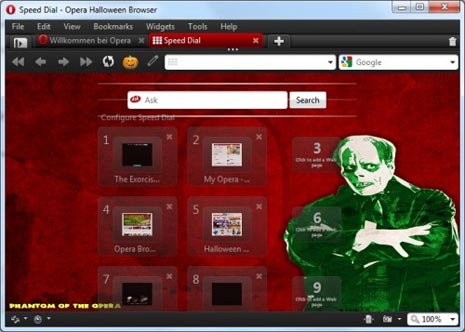 However, if you already have Opera browser installed, you need to backup 3 files and rename them in order to get the Halloween experience:
1. Open menu "Help" » "About Opera".
2. Find the path to the catalog with user data ("Path" » "Preferences") and copy the address
3. Close Opera
4. Open the catalog with user data found above (for Windows: "Start" » "Run" » paste the address you copied before)
5. Remove or rename these files: bookmarks.adr, speeddial.ini and operaprefs.ini
6. Install the customized version (without removing the previous one).
Also See – Halloween audibles on Yahoo Messenger, Spook out!
Download Opera Halloween Browser (it is latest Opera browser with Halloween look). One easy way to stay in Halloween spirit without having to leave the online world. [via ghacks]