Creating, entering and remembering passwords is an important online routine for majority of computer users. We need complex and secure passwords for web accounts of different services, email accounts etc. We have already seen handy utility MyKeyGen to for generating random passwords. Taking steps forward "Java Password Generator" adds more complexity to final password, ideal for using them as your WEP / WPA keys or for online accounts.
Complex password generator tool
1. Download Java Password Generator tool.
2. Double click to install the program & then launch it for use.
3. Enter 'number of characters' & 'number of passwords'.
4. Select password contents among: lowercase, uppercase, numbers and symbols.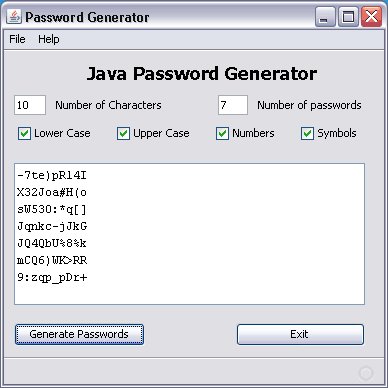 5. Click 'Generate Passwords' button to see complex multiple passwords. You can also print them for reference, goto File > Print (or Ctrl + P). One easy tool to generate difficult to crack passwords.