Even in times of Windows 7 operating system, Windows XP has not lost its share of charm and users. Do you want to prank friends with fake witty Windows error messages? You can easily do this online in few simple clicks using Online Error Message generator tool. It allows you to create custom error message box with own text, icon and more.
Generate Fake XP error message box online
1. Open Atom Smasher's Error Message Generator online tool.
2. Click to select the icon image for your message box.
3. Then select box style among: 95/98 and XP options.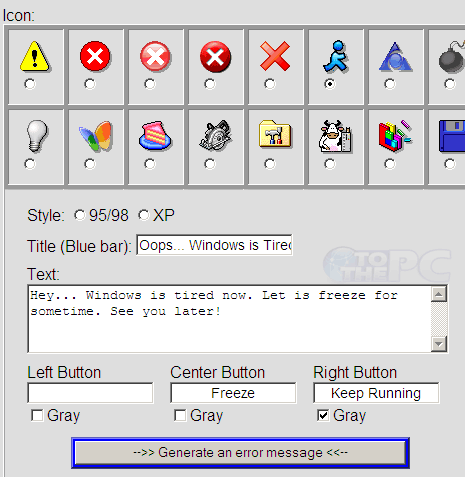 4. Enter the text to be displayed on blue title bar.
5. Also enter text for message box (keep it funny & strange).
6. Configure left, center and right button for error message.

7. Click 'Generate Error Message' button to get your own custom error message box.
If you do not like online tool and want to have similar fun offline – then grab the message box toy tool for creating fake Windows error messages.