How important is Google Chrome for Google? Well, this is evident from the fact – Google Chrome link is live on Google India's homepage (see pic).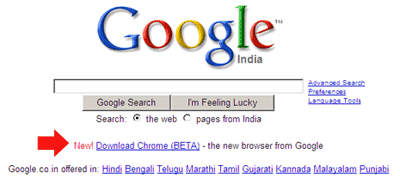 It reads "… New! Download Chrome (BETA) – the new browser from Google". Yeah, Google want to inform every other surfer about their newly launched FREE web browser 'Chrome'.
Interestingly, could not see similar Google Chrome promotional weblink on Google Pakistan, US, China and so on. Did you notice Google Chrome weblink on Google homepage specific to your region?