Google recently celebrated its 10th birthday, which created lot of buzz in blogosphere but nothing was coming from Google itself.

Well, wait is over with Google acknowledging its age as 10yrs with opening of Google 10th Birthday website. It has cool timeline that traces Google's 10 years journey with listing of important events.
Explore events starting from 1995 'When Larry met Sergey' to 2008 'Google Turns 10'. Besides graphical view you can timeline as text and even search timeline for stuff you are interested inn.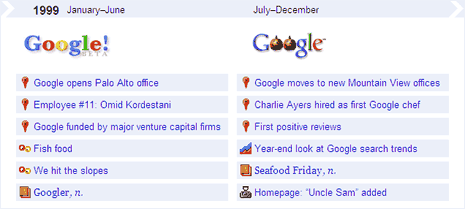 Checkout Google 10th birthday website and awesome timeline tracing Google's important events. Nostalgic and very informative journey of a super power that has so many people burning in jealousy and looking for chance to be next Google. In btw 'Happy birthday bigG'.