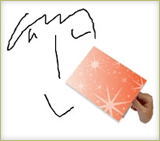 Besides the usual festivals, there are so many days when you expect a greeting card to make that day even more special. If you love drawing and want to greet your friends with your creations, then 'DrawGreetings' is the service you need.
You can draw your mind out using online drawing tool. Once you have completed the drawing you can email your creation. You can also have your creation sent by mail to your close friends for a long lasting memory. Here is the quick 3 steps procedure:
1. Draw – Just like Offtype, the drawing interface is very easy. You have a simple paint brush with an option to configure its color and thickness. Once done with the drawing move to the next step.
2. Write message – Here you can write any personal message that should accompany the greeting card being sent by you.
3. Email or Mail – You can select email only option, enter the email address to deliver greeting card at your friend's inbox. In case you want to send greeting card in the mail select option 'finish your greeting at zazzle'. Sending greeting card via mail will cost you few bucks.
DrawGreetings: Click here to draw & send greetings by email or mail 
Cool service to surprise your friends and make their day more special with your own creations. This service is free if you are sending greeting card to a specific email address. Already thinking of first person to receive your greeting card?