Are you a hardcore Flickr user who loves to upload more and more photos to your Flickr Account? If yes… have you ever thought of backing up all your Flickr Photos on your computer or burning them on a CD?

Yes or No, here is one easy way to backup Flickr photos with great ease. FlickrEdit is a free open source desktop application that can provide you better way to access Flickr Photos. It allows you to download or upload photos to and from Flickr. FlickrEdit is written in Java and it uses flickrj framework to access Flickr.
Launch the program after you download and install it. You will get a prompt to enter your Flickr account login details. After this you will get a windows with all your Flickr Photos. Select the photo or photos that you want to backup. After selecting photos, run the backup Wizard. You will get two options:
Backup to Hard drive with an option to create zip files.
Backup to Media by burning photos to a CD or DVD disc.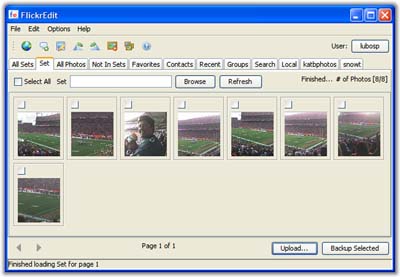 Click on 'Start Backup' button and all the selected photos will be backed up. Time taken for backup procedure will depend on number of photos selected for backup.
FlickrEdit: Click here for more information & Download 
Besides backup, you can also: search photos based on date and tag, upload new photos to Flickr, rotate photos, delete photos or Sets, switch between multiple Flickr users and much more. One Handy and free tool to play safe with Flickr photos, what say?
More Flickr: 10 Tools to Upload Images to Flickr with ease