RSS feed concept is very important these days. Almost every website and blog provides readers to subscribe to their RSS feed for getting updates on latest addition.
Services like Feedburner makes spreading of feed more easier. Traditionally, Yahoo Pipes has been a  good resources to combine multiple feeds and produce one single feed from them.
Is there any other alternative besides Yahoo Pipes? Well yes there is and it is called 'FeedBlendr'. Yahoo Pipes offer number of sphisticated features to play around with RSS feeds but it can be bit confusing for a newbie!
However, FeedBlendr is much easier and primarily supports blending or combining of multiple feed. Interface of the service is very easy. Enter the URL of feeds that you want to combine and Click on 'Blend Your Feed' button. No Registration or  download is required to blend feeds. You will get output in following formats:
RSS/Atom output which you can use in your Feed Reader or further syndication.
HTML link and  (.m) link to view feed contents in browser and on mobile respectively.
OPML ouput for further distribution of blended feed via feed readers and more.
Javascript Code to show feed content on any webpage or blog.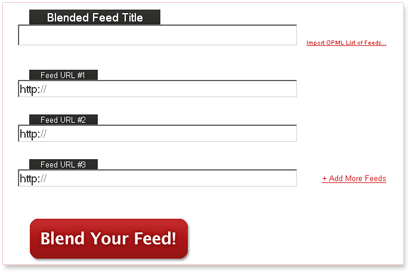 FeedBlendr: Click here to access Feedblendr – tips – about
So besides serving as a feed blender it also doubles as a tool to publish RSS to HTML. After blending the feed grab the Javascript code to show Blended feed contents on your blog or website. Surely one handy tool, what say?
Related: 5 Free Tools to Publish RSS to HTML