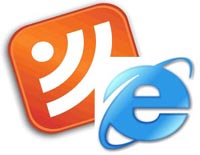 RSS is a family of Web feed formats used to publish frequently updated content such as blog entries, news headlines or podcasts.
To view RSS feed content one needs a RSS reader (seperate application software) or can view contents using online reader like Google Reader.
Using RSS to HTML means, you can get fresh content on to your web blog or site. Just get the RSS feed address and using any of the following alternative start showing content on your site (please do check the legality of the RSS feed being used).
Here is the list of alternatives you can use to publish RSS of any website/blog on your site: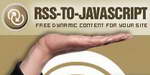 1. RSS-To-JavaScript:RSS-To-JavaScript can help you convert any valid RSS, RDF or ATOM feed into easy to implement Javascript. Using that Javascript you can easily publish a feed on any webpage or blog.
This is service is FREE and no registration is required to access the service. Also, you stylise the way in which you want to publish feed in terms of font type, size, color etc.

2. RSS – INFO: Another free and very good tool to publish RSS. You can convert RSS to HTML in seconds. There is no need to register and of course you can design the look of the feed in terms of fonts and colors.

3. RSS2HTML: Very different from above two options. Instead of giving you code that can be added to a webpage to publish feed, this service gives you link to a webpage that already has published feed contents.
There is no need to resgister and it provides number of customization options like single column, two column format of feed publishing.

4. RSS Feedreader: Using this you can publish RSS feeds of your choice. You get both the options for javascript and PHP for publishing feed.
Easy to add to either PHP or HTML pages. Great for Blogs, Forums and message boards too. Service is FREE, however you need to sign up in order to start using it.

5. Grazr: Widget based service to display feed content on a webpage. Very good option in case looks matter you the most.
You can easily customise the design, dimension of the widget box using option available. It is free and ther is no need to sign up.
Here are some other option for Feed publishing (some of them Paid services) : Feeddigest – Ticker My Feed – FeedrollPRO
My favorite Service is Feedburner's BuzzBoost. Not just it is very easy to configure and use. You can easily access host of other features in Feedburner account. Also, unlike other services I have never seen this go down or say 'server not available'.
Saving best for the last, try feedburner I am sure you will be equally statisfied. FYI mighty Google owns this service!