RSS Feed is a wonderful concept to share lot of information in least amount of time. There are number of ways to mix mash RSS feeds, read RSS feeds using online or offline RSS feed reader. SE-RssTools is a free and very simple portable RSS Reader. Just launch the program and read your favorite RSS feeds anywhere.
Add & Read RSS Feed with portable RSS Reader
1. Download SE-RSSTools portable reader program [weblink].
2. Unzip it and launch the reader application.
3. Goto File > New > Feed and enter RSS feed of website/blog.
4. Latest feed items will be shown at top right.
5. Click on any item to see details at bottom right.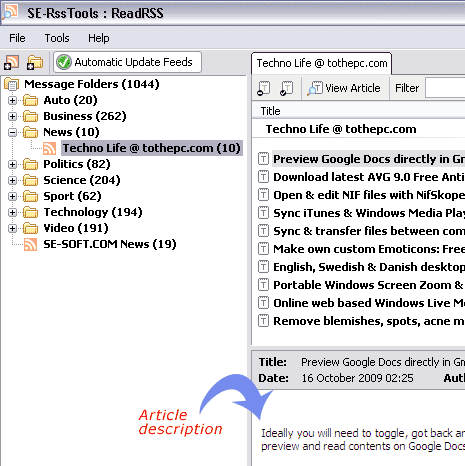 Besides the RSS Reader, download package also contain RSS Editor / writer. It allows you to create RSS feed file with custom article title and content. Again, very easy and simple program which is fully portable. Grab these two cool RSS programs (reader and creator) to deal with RSS feed in most easy way. Alternatively, try Feed Reader portable RSS reader.