So you have a Blogger Blog in English and your major reader base includes Hindi speaking audience. Here is an add on tip to facilitate your esteemed readers.
Give your readers, both the options to comment in English or Hindi. It is very easy to implement in a blogger blog.
After you implement this, your blog readers can comment in English or comment in Hindi by clicking on the link you can create by following the procedure below: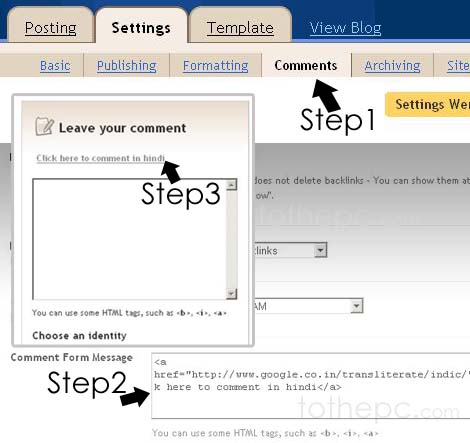 Step1: In Blogger: Click on Comments, Click on settings.
Step2: Scroll down a bit and enter the code for the link in box titled 'Comment Form Message'
Code If you want link for translator to open in same window:

Code If you want link for translate to open in New window:

I will suggest to use new window code, so that reader can easily copy the Hindi text from translator and paste in the comment form. You can also customize the Link text by editing 'Click here to comment in hindi'.
Step3: This procedure only involve 2 steps, this step is basically to show the result. Check the photo to see how link will appear to you blog reader.
Above procedure is only applicable to Blogger Beta(new) blogs. If you run old blogger, not to worry, you can easily embed the Hindi translator within your blog, get the code here. Learn more for blogging in hindi at blogger here.
Hope this will be useful to all the blogger users out there. Traditionally I have loved blogger. With new features being added, it is certainly getting better. Happy blogging!