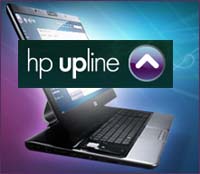 HP has jumped into Online Storage service market with introduction of Upline. Just like many other unlimited storage services, there is no cap on amount of data you can dump.
But, this does not come free. You can try out unlmited storage plans from $59 to $299. It also offer 1GB starter plan to test out service for FREE.
Using this premium storage service you can dump all your critical data online with ease. Data is stored in compressed and digitally encoded over a secured transmission. Besides you can also backup data in your account, access work files from home and perform easy data tranfer to a new PC.
Upline only works with Windows based PCs. If you are looking for service supporting MAC interface then checkout Dropbox.
Coming from HP, Upline should offer quality alternative to store all your data online with relative ease and safety. It is good that they did not go for a bang bang approach offering free accounts with tons of storage and banwidth. Worth a try!