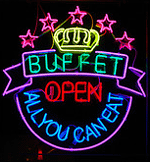 "We eat up the competition", this is a popular tagline of hostgator web hosting. Yahoo has come up with… "all-you-can-eat web hosting". Their offering is as amazing as the tagline itself.
Yahoo web hosting has gone unlimited for all of its small business customers with an attractive price tag of $11.95 per month. Yeah, Yahoo has opened the buffet and your can gorge as much you can. Here is what you can look forward to:
Unlimited disk space and Unlimited data transfer.
Unlimited email storage with 1,000 email accounts.
Here is more, hosting plan includes easy-to-use web site design tools that help business owners with little or no technical chops quickly build great-looking sites. You will also get a free domain name, 24×7 phone support, and a new 30-day satisfaction guarantee.
To help customers find these businesses online, Yahoo! Small Business will automatically optimize your site and submit it to top search engines.
Word of caution, remember it is still a shared hosting offering. This unlimited plan is good for number of small websites, however for a huge website this offering is big NO because of its high resource requirements.
With other host increasing their disk quota and bandwidth in GBs and Terabytes, Yahoo may just have just triggered another upgrade war among top web hosts.
Lot of publicity for Yahoo hosting… with magnitude of offering this was natural. In the end, its win-win for all of us with unlimited web hosting package. Buffet is open… get set to eat!