Vocabulary, yeah – this is a heavy loaded term that can have different content and meaning for different people. Incase you are looking for an easy way to improve vocabulary of different words, then head over to Vocaber. It is an online repository of useful information that allows fun learning and enhancement of vocabulary without causing too much stress on mind.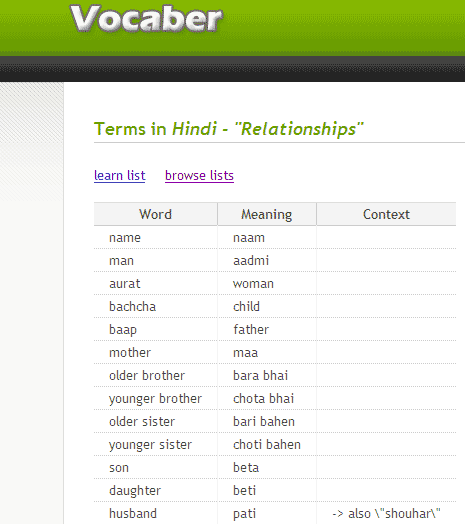 To get started, head over to lists at Vocaber. It has listing of interesting collection of information like: World Capitals, French Food, French Taxi, English Big Words, State Capitals, GRE and lots more. Being familiar with hindi, their Hindi – "Relationships" list was perfect (see pic).
You can browse through various lists of your interest. To track your learning and get at more ease – you can always create a free account and login to check details. Learn something useful while online at Vocaber.