Do you want to chat with people from different countries, whose language is unknown to you? BabelWith.me is a cool online web service that allows you to chat with anyone from any part of the world without language problems. It allows you to create disposable / temporary chat rooms and converse in any of 45 most used languages around the world.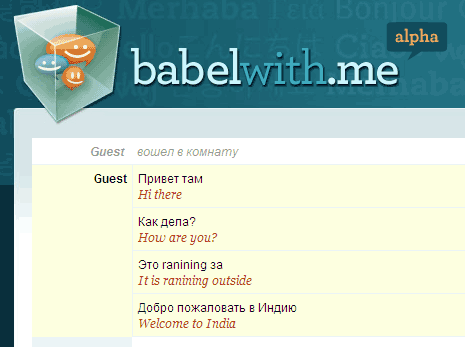 Related – Chat on GTalk with Real-time Language Translation
To get started, click start conversation button and your chat room will be loaded. There will be no annoying prompts for sign up, login or registeration. Your chat room will have unique conversation address ( like http://www.babelwith.me/7eMJ ) at top right. You can share this URL with friends and invite them to join the conversation.
Type like we usually type on messenger and select your language from drop down box at bottom right. You can even email the conversation for future reference. Head over to BabelWith.me to converse without worrying about language, very quick  and handy chat web application.