Besides the default language keyboard on iPad, you can more different language international keyboards to your iPad. This allows you to type text in other different foreign languages, even some languages written from right to left of the screen. You can check full list of supported keyboard for your iPad on the settings screen.
Turn ON International Keyboard on iPad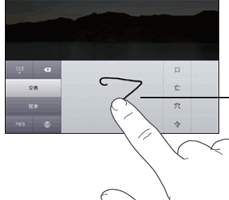 1. Tap 'Settings' icon on the iPad home screen.
2. Then tap 'General' option and goto International > Keyboards > Add New Keyboard.
3. Turn ON the keyboard of your choice with specific language preference.
It supports lot of languages including Japanese, Chinese Handwriting, Chinese Pinyin and more. While using Chinese Handwriting language keyboard, you can draw symbol with finger and matching characters will be shown for quick selection and typing.