PDF is popular for ebooks and documents. Unfortunately, iPad does not support PDF format directly. You can read ebooks in epub format in ibooks app on the iPad device. Hence you need to convert PDF documents into epub format. Then load epub files in ibooks app on iPad for flip page style ebooks reading.
Convert PDF to epub to read on iPad

There are number of tool to convert PDF files into epub format. Checkout listing of tools to create and convert epub files.
You can use online tools or download free PDF to epub converter on your Windows, MAC or Linux system for quick conversion. Options galore!
View PDFs in Mail app on iPad

Unlike direct PDF reading support, you can view PDFs and other attachments within Mail application. So, if you receive PDF file as attachment – it can be read within Mail app on iPad. However, for direct PDF reading in ebook style – you need to convert PDF file into epub format.
Free & paid iPad apps for reading PDF files
There are few iPad apps that can be used to read PDF files on your iPad device. Adobe has released official free PDF Adobe Reader app for iPad, iPhone and iPod touch users. This app allows you to quickly open PDF files from email , the Web or any application that supports "Open In…".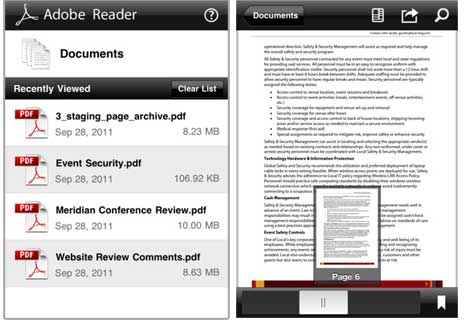 It also support reading text annotations such as Sticky Notes and viewing PDF Portfolios, PDF Packages, annotations and drawing markups. You can open and view password-protected PDF files with support for the highest grade of PDF encryption, up to AES256. Besides the usual PDF controls like zoom, you can print wirelessly using Airprint and share PDF files further by email.
There are also few paid PDF reading apps for iPad, this includes: Good Reader app ($0.99) has both free lite version & paid version. PDF Reader Pro edition ($3.99) is iPad app speciallay for reading PDF files. It has lot of features and comes with little heavy price tag. If you use box.net to store files, then grab box.net app for reading PDF files in box.net account. You can get all these apps from iPad app store. [Originally Published on April 05, 2010 – Updated on October 18, 2011]