Looking for a neat utility for audio format conversion needs? Well, test drive Free Mp3 Wma Converter and you for sure will be hooked to this one.
Using this, you can convert all your Mp3, Wma, Ogg, Aac, M4a, Ac3, Ape, Flac, Wav files. Interface of the utility is very simple and basic. Just select audio files from your computer, output format and click on the 'convert' button.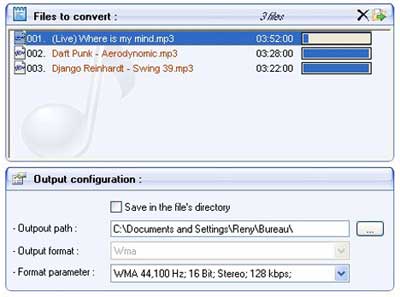 Your audio files in the desired audio format should be present in the pre-defined output folder after the conversion. It supports following audio format conversion:
Mp3 to Ogg, Mp3 to Wma, Mp3 to AAC, Mp3 to Wav
WAV to Mp3, Wav to Ogg, Wav to AAC, Wav to Wma
Wma to Mp3, Wma to Ogg, Wma to AAC, Wma to Wav
Ogg to Mp3, Ogg to Wma, Ogg to AAC, Ogg to Wav
AAC to Mp3, AAC to Wma, AAC to Ogg, AAC to Wav
Ape to Mp3, Ape to Wma, Ape to Ogg, Ape to Wav
Flac to Mp3, Flac to Wma, Flac to Ogg, Flac to Wav
M4a to Mp3, M4a to Wma, M4a to Ogg, M4a to Wav
Ac3 to Mp3, Ac3 to Wma, Ac3 to Ogg, Ac3 to Wav
Download Free Mp3 Wma Converter for your audio format conversion needs. Simple, effective and its all Free!