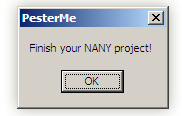 Pester yourself with repeated nag messages about important things you need to do. Just like Twitter40 reminds you to update twitter every 40 minutes, PesterMe is a small utility that will never let you miss a thing!
It allows you to create your own repeating nag message, that will popup as frequently as you want. Just type in your message and how often you want it to repeat and then click OK.
PesterMe will stay in the system tray and popup the message at pre-configured time. Besides showing the custom message, you will hear an obnoxiously loud sound noise.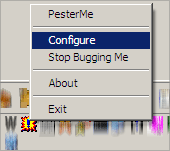 Noise and in your face message prompt will catch your attention for sure and will pass the message 'loud' and clear to you.
You can pause, exit and re-configure any message by accessing the utility from the system tray.
PesterMe – Click here for Download &Â Info
You can use it to remind yourself about important tasks like – taking your medicine, calling your girlfriend, time for sleep and much more. Get creative and be informed!