Are you tired of keeping browser window open to track and remain updated with events in Google Calendar? Now you can avoid all this with Gminder desktop client and close web browser window showing online Google Calendar. Gminder is a small programs that sits in system tray and give you instant alerts for upcoming Google Calendar events.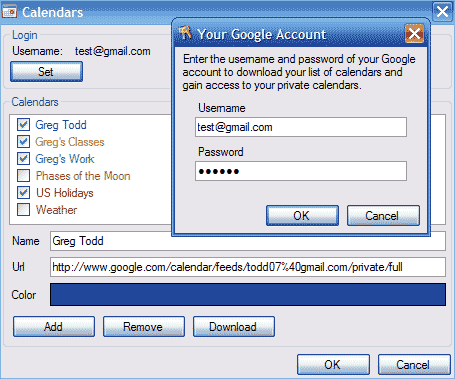 To get started, click on set button and login using Google account. Then select one or many calendars associated with provided Google account. You can add, remove and download specific calendars from the account. Using options menu you can customize color for different type of events among: future, soon, now and past. You can also customize sound file played during altert notification in this application.
Gminder has simple and easy user interface. You cannot add events using this desktop client but for sure stay updated with events already listed in your online Google Calendar. It is an excellent add-on utility for regular Google Calendar users – download Gminder.