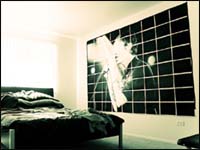 Using a regular printer you can dress your wall with a poster featuring your favorite image. We have already discussed on how to convert an image into ASCII format and dividing into multiple A4 sheets using ASCII Poster Maker.
Then paste those individual sheets and cover the wall with huge ASCII poster. How about a tool with similar functionality that retain original colors and zing of the photo?
Block Posters free online service should come handy in this regard. It allows you to split a photo into multiple sets of A4 sheets. You can print these individual A4 sheets using a home printer. Then paste these sheets one by one forming the whole poster on the wall. With the help of this tool you can generate a poster to cover the whole wall. It has simple 3 steps procedure:
Upload any image from your computer.
Slice image into number of sets you desire.
Then download the output and start printing.

During slicing you get option to set number of pages for the whole image. Besides you can select the image orientation between Portrait and Landscape. Output is provided in the form of PDF file. Download the file and start printing. You will need Adobe PDF viewer to open the file. In case you don't have it, download and install it free from here.
Block Posters: Website – Browse Gallery 
Don't forget to submit photo of your "poster on the wall" to the gallery on the website. Of course this is optional but how about sharing your creations with others. For some cool ideas do check the gallery. In case you want to make grey scale ASCII poster, then check Online Poster Maker. via