For an active Youtube user, huge number of videos related to account can overwhelm big time. With lot of videos, finding video that you want to view or share can take lot of time. Fortunately, you can easily organize Youtube videos neatly by making video playlists. This allows you to categorize and bunch videos under separate dedicated playlists. You can customize playlist(s) name and description for users to know type of videos contained in specific Youtube video playlist.
Make playlists on Youtube to organize videos
1. Open your Youtube profile page by logging into your Youtube account at youtube.com website. Then click your profile name and click Videos option in the expanded menu.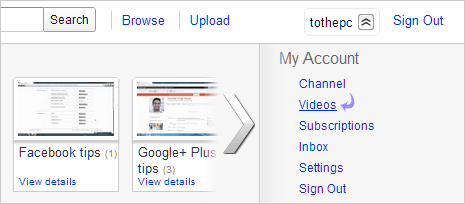 2. This will open webpage with 'My Videos and Playlists'. Look for Playlist option on left sidebar. Click New button to create new Playlist of Youtube videos.
3. In the pop-up box, enter details like: playlist title, playlist description and playlist tags. Once you have entered this information about your new playlist, click Create Playlist button.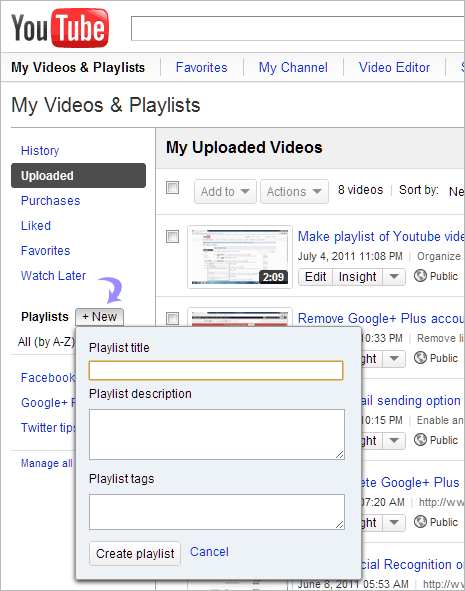 4. This will create new Playlist and now you can add videos to this playlist. Click 'add videos to playlist' button at top right to get going. In the pop-up box, browser video title and click Add button next to video(s) that you want to add to your new video playlist. Your playlist is ready and now you need to enable option to display newly created playlist on your Youtube video channel.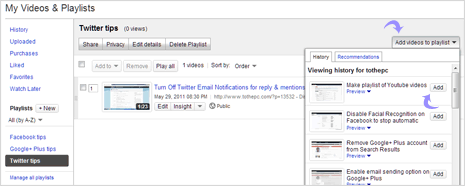 5. Click Profile name and then click Channel option in expanded menu. Then click 'videos and playlists' button at top right part of the menu.

6. Click to check (with tick) Playlist option under "Which content would you like to display?". Then click to check playlist name(s) which you want to display on your Youtube channel. Click Save Changes button, now your new playlist(s) should be visible on your Youtube Video channel.
Video: Creating Youtube video playlists