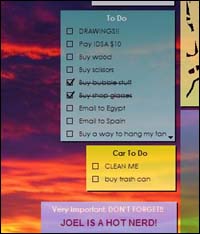 Hott Notes is an excellent way to keep yourself informed about things you are suppose to do. It is a free sticky notes reminder program for your desktop.
You can place notes on your desktop, remind yourself about important events everytime you use the computer.
A handy way to create checklists to keep track of what you have done and what you have left to do.
Using this free desktop application you can also draw crazy pictures to decorate the desktop or use your Tablet PC to write notes with a stylus.
You can scribble notes of any size which can stretched to your liking. Besides creating large number of notes, editing them is also easy. To edit, just double click on the body of a note, edit it and then click on 'done'.
Portable edition of Hott Notes is also available to ease out things further. You can install it on your flash drive and take notes wherever you go.
Details: Hott Notes – ScreenShots – Download 
Besides being simple, application is very colorful and refreshing in appearance. Ease of usability is another addon. Ready to get sticky?