Who.amung.us is free widget based web service to track live statistics of any blog or website. Just copy the code to your website or blog template and see live stats on your unique URL.

Recently, Who.amung.us went for little makeover allowing you to see all on 'One page'. If you are too addicted to LIVE tracking "No of users" statistics of your blogs then checkout Whos.Amung.Us .NET Notifier.
It is a small application to track the number of users currently browsing your websites. It connects to whos.amung.us to get this data which is displayed in the system tray area.
To get started enter the unique last part of your Whos.Amung.Us URL. For URL [http://whos.amung.us/show/ztbgxeuf] – enter ztbgxeuf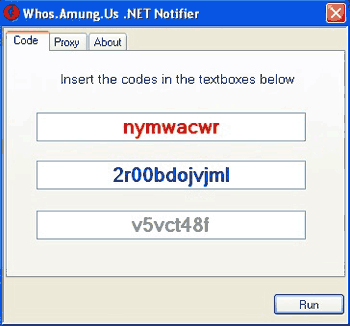 You can track maximum of 3 website or blog statistics with support for proxy servers. Just enter unique Ids from whos.amung.us URL and see the live 'no of users' statistics on your system tray.
Download Whos.Amung.Us .NET Notifier [link], it is portable application that can run from a USB device. Also, Microsoft .NET Frameword v.2 or newer may be required. Very neat and useful utility if you love watching Live visitors stats of your blog(s). Thanks Andrew