"Your computer appears to be infected – It appears that your computer is infected with software that intercepts your connection to Google and other sites" – Learn how to fix this. Did you see such message on Google Search website while searching for something? Google now displays this message when it believes you computer is infected with some kind of malware or malicious software.
What is this malware [malicious software]
Malware is a malicious software that can create havoc on your computer. Malware can be used to intercept your computer connection to Google website and other sites. Once Google detect interceptions while you use Google Search on your computer – it confirms malware presence on your PC.

Malware can cause lot of bad things on your computer like deleting existing data, stealing personal information, reducing browsing and connection speed to other websites. Hence, from now on – Google will display malware warning so that you can scan system and take steps to remove it. [via Google blog]
Remove & fix Malware problem detected by Google
1. Anti-virus software – Check if you have anti-virus software on your computer. You can buy premium anti-virus software or download free anti-virus software programs to protect your computer. After install, make sure Anti-virus program is updated with latest definition release. Then scan the complete computer and if infection is detected – remove it.
2. Anti-Malware software – For added protection and checking, also scan system with special anti-malware software. You can may use Malwarebytes' Anti-Malware on Windows and MacScan on MAC systems for scanning computer contents for any malware infection.
3. Edit Windows Host file – On your Windows computer open this folder location C:\Windows\System32\drivers\etc\ and then double click to open hosts file in notepad. [more on editing hosts file]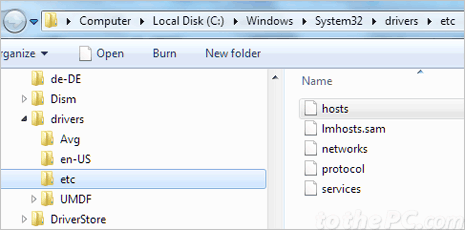 You will see a file with some comments at the top, followed by a list of numbers and names. Find the first line beginning with 74.125.45.100 and delete everything from there to the end of the file, including that line. Under the File menu, click Save and then Exit. Restart your web browser and you should no longer see the warning when searching on Google.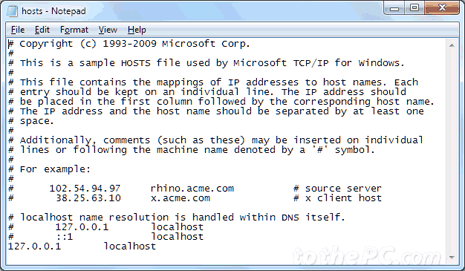 In case something goes wrong while editing windows hosts file, your hosts file contents should like as in screenshot above. Confirm on that and all should fine with no infection message on Google Search from here on.
Ideally, you should stay away from suspicious websites. Also, do not start downloading any file – about which you are not sure. This may result in malware or virus infection, which can cause loss of data and you may have to delete everything and reinstall operating system to recover.