Do you want to faster and more reliable files download from Microsoft and other websites? Microsoft Download Manager is a free downloader program for Windows system from Microsoft. It allows you to resume file downloading and track the status of file downloading within program window. It supports faster file downloads without need to open web browser window.
Microsoft Download Manager files downloader tool
1. Download and install Microsoft Download Manager program [1MB].
2. Click "New Download" button and then add URL for file to be downloaded. The Microsoft Download Manager currently supports downloads from Web addresses starting with http://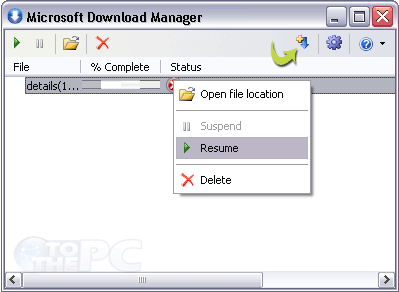 3. Program window will show downloading status. You can right click it to suspend or resume file downloading.
It makes downloading of large files such as an application or multimedia files an easy routine. The Download Manager has been specifically designed to manage file downloads from supporting Microsoft Web sites in a secure and reliable way. It works fine on Windows platform from XP SP2 to Windows 7 operating system.