There are number of application launchers like Enso Launcher to open apps on the fly with few keystrokes. Microsoft Speed Launch is a free application that promises to be different and more easy to open things.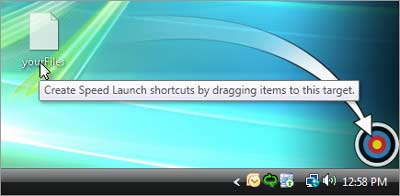 After you download and install this application, you will notice a bulls eye on the desktop. Press "Windows + C" keys to open Microsoft Speed Launch application and then to create a shortcut:
Drag file, URL, doc to Speed Launch Bull's eye.
Give a name to be used for accessing that file, URL or doc.
To access, press "Windows + C" & type specific shortcut name.
There is more… you can open more than one application, URL, file using a common shortcut. For this, drag and drop multiple items to Bull's eye and give same name to them.
Then you will then get option to replace the name or merge. Choose merge and then press "Windows + C" and shortcut name to open multiple items on your computer.
This is one easy and different way to access applications, files and URLs quickly on your computer. There are number of configuration options, get going by downloading Microsoft Speed Launch. [Weblink – Read FAQs]