Ideally we go to start menu options or double click icons to launch different program on Windows computer. You can quicken up the process of opening programs by assigning quick to use keyboard shortcut key (hotkeys). This is possible by using free utility hotkeyz.
Hotkeys to launch programs using keyboard
1. Download hotkeyz launcher & install the program.
2. It sits on the system tray, click icon to open it. By default it loads shortcut keys to access different program and feature like for internet explorer, control panel.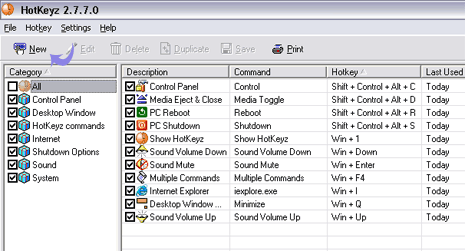 3. Click on "New" button, then select any file or exe program file and assign shortcut key. In this way you can assign hotkeys to other programs on your computer.
Program window shows how many times a specific hotkey was used. You can also print list of shortcut keys within the program for easy and quick recall. Besides this, you can check other free utilities to add hotkeys to change power schemes, hide taskbar, mute or change volume.