There are number of web based todo services that provide loads of features and information to stress you out. NowDoThis is most simple ToDo list manager that allows you to track todo tasks and nothing else.
No registration or email ID is required. It does not even show colorful graphs and charts of your todo tasks nor does it provide you daily reports for tracking. It is as simple as it gets.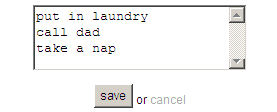 To get started, enter your todo tasks in the text box provided and click on save. Then you first todo task will appear. Click on done button once you have completed that task. Your next task will appear.

You can edit tasks at any time by re-ording and editing contents of the text box. Checkout NowDoThis, some will find it damn good for its simplicity while others may not for lack of advance feature. Take your pick!