Many of us prefer to keep track of important things using good old simple Notepad. There is always urge to have notepad with few more features, yet stay simple and quick. TakeNote, is a small notepad style application – which is simple and very useful to keep track of lot of information. It can handle lot of text cleanly arranged in tree hierarchy.
You can use it to store notes, code snippets, to-do lists, contact information and almost any text. It shows text like usual notepad but with proper arrangement. It maintains simplicity of a notepad and does not hog system resources unlike few feature laden to-do information managers. You can also use shortcut keys to add notes: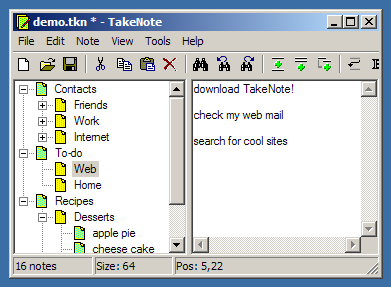 F4: insert before the current note
F6: quick toggle of focus
Sh-F4: append at the current level
Ctrl-F4: add a child
Besides shortcuts keys, there are number of features to move and play around with text that is very important in our Techno Life. Above image should give clear picture of arrangement of text – pretty neat, isn't it? Download TakeNote or try damn simple online alternative NowDoThis.