Learning to use an application software program by manually reading help tutorials can be real boring. If you are getting to know Microsoft Office 2010, then here is avery unique and interesting way to quickly learn on 'how to use various tools in Microsoft Office 2010' – through Office 2010 screensaver. This screensaver randomly show video tutorial tips and tricks for Microsoft Office 2010 programs.
Download free Office 2010 video tips screensaver
It is a free downloadable screensaver for Windows users which automatically downloads short video tips from Office.com website. These How-to video tips are played on screensaver when computer is left idle for sometime. Alternatively, you can also manually launch the screensaver to watch video tips on your computer.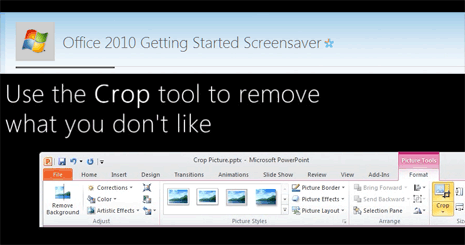 This screensaver is 70MB in size and requires Windows genuine validation before you can download and install it. So, be it learning to crop screenshots or saving documents in different format – this screensaver will display fresh Office learners tips to give you better and quick understanding on using Office 2010 program. Download Office Screensaver
Video preview: MS Office 2010 tips screensaver
This screensaver automatically download fresh video tips using RSS feed of Office.com video tips section. It also displays small pop-up box at bottom right part with featured tip, which you can click through to read more about it online.