One cool way to exercise your brain and see some nice images from Flickr is – Photosoup. It is a visual word puzzle generator that allows users to create word search puzzles with tag-photo pairs taken from Flickr. The tag is hidden in the puzzle, and only the associated photo is shown as a clue. The objective is to find all hidden tags in the puzzle before you run out of time.

To create and play a new puzzle, you have to provide a topic, for example 'computer' as shown in image above. Alternatively, you can use your own username to generate a puzzle that shows your photos. Of course you can also check out the photos your friends have posted on Flickr. After entering the topic or username hit the 'Play' button. You will get puzzle screen like: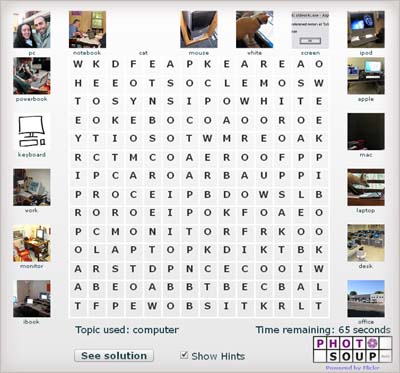 To make thing easy click on show hints option. Now you will have visible tags that needs to be puzzled out of words on the screen. Try to locate as many words as possible. See some beautiful images and give your brains a shakeup in an attempt to solve the puzzle.
Only public Flickr photos that have the Creative Commons Attribution license are used while generating a PhotoSoup puzzle.
PhotoSoup: Play Game – How to Play – Embed Puzzle
Very innovative idea to test your brainy side. I failed miserably in playing that puzzle as I was more interested in clicking 'See Solution' button… hehehe. How did you fare in solving the puzzle?