Want to publish blog post without opening your blog panel?
Want to post same article on multiple blogs without going into any?
Want to do all this within your web browser with any bells & whistles?
3 questions and one answer YES! All of the above is possible using web service "WritetoMyBlog". It is a free web based word processor for your Blog. Create post entries for your blog completely free, no membership required (told you no bells and whistles!).
Besides, you can post to multiple Blogs simultaneously, manage your Posts, works with all major blog programs. So, after you create blog post (and tags) using web based editor, click on publish button.
You will get a new window to chose your blogging platform and login details. It supports blogger(new & old), wordpress.com, wordpress self hosted, TypePad, Moveable Type and Dotclear.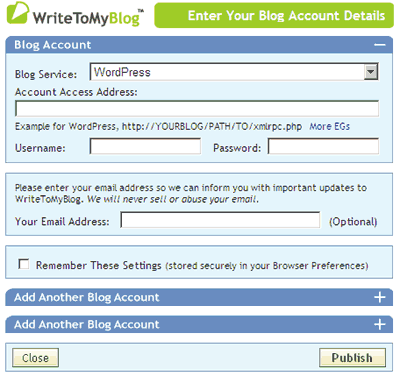 Enter login details for blogs you want to publish posts and click on publish button. Before the publish you will also get option to add or edit categories for the blog post.
WriteToMyBlog looks very neat and works like charm for quick posting without extra clutter. Test drive it for new way of posting. Thanks Victor